How Do I Stop Starlings, Grackles, and Blackbirds*?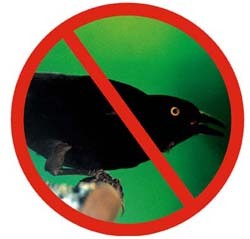 These species can inundated many a backyard feeder.
Starlings are a non-native species and are not related to our native blackbirds. They are irridescent black with speckles. Their beaks are dark in winter (shown above) and yellow in summer.

Grackles, who are black with a purple-blue sheen to their heads, are our most common blackbirds. Red-winged blackbirds and cowbirds are other native blackbirds who may visit your feeders.
*While not technically correct, all three species are commonly lumped under the term "Blackbird," and for simplicity we will use the term throughout the article unless specific clarification needs to be made.

Starlings' preferred diet consists primarily of insects and berries, but if these are hard to find, they turn to our feeders instead. Their beaks are not designed for cracking hard seed shells, so they go first for the softer suet cakes, peanuts, and other foods without shells. If those aren't available, they will even force themselves to eat hard shelled seeds. Fortunately, we do have a few tricks to eliminate Starlings from some feeders, and to slow them down at others, so your other birds can get their share of food, too.
The other blackbirds are more traditional seed eaters. They are less likely to bother suet, unless it is of poor quality (ie, filled with seeds or grains), but will devour most common seeds readily.